Final Collapse of Halemaumau on August 2 at 11:55 pm No Earthquakes Felt Since This Occurred.
Large Brush Fire On The Slopes Of Manuna Loa Threatens Special Ecological Area(SEA)
The Keauhou Ranch wildland fire more than doubled overnight and is now 3,205 acres – most of it within Hawaiʻi Volcanoes National Park. Additional firefighters from the mainland and Hawaiʻi have arrived and are assisting with suppression efforts.
The fire, which started August 5 outside the park on Keauhou Ranch, continues to burn in several areas on Mauna Loa, has progressed close to the Kīpuka Kī Special Ecological Area and is two miles north of Highway 11.
"We are focusing our suppression efforts on Kīpuka Kī and are working carefully to back the fire up against a natural barrier of wide hardened lava flow so it doesn't progress further downslope," said Fire Management Officer, Matt Desimone. The fire is currently five percent contained.
A blended Type III Incident Management Team is managing the fire, and is comprised of National Park Service (NPS) and Hawaiʻi Island Incident Management Team members. Cooperating agencies include Hawaiʻi County, State Division of Forestry and Wildlife (DOFAW) and volunteer firefighters. Six engines, a bulldozer, two helicopters and a water tender are being utilized. An additional 30-person NPS hand crew arrives today.
Kīpuka Kī, a Special Ecological Area (SEA), is one of the rarest old-growth native forests of its kind in the world. It is comprised of tall ʻōhiʻa, koa and mānele trees that are essential for the survival of threatened and endangered native plant and animal species.
Strong, gusty winds and dry conditions at the 4,500- to 4,800-foot elevation have made the fire difficult to control with limited resources, and it continues to burn both upslope and downslope on Mauna Loa. The fire started on Keauhou Ranch and its cause is under investigation.
Mauna Loa Road and most of the park have been closed since May 11 due to hazardous seismic activity.
https://www.nps.gov/havo/learn/news/20180808_pr_fire.htm
NPS Photos: one shows NPS fire crew on the ground fighting fire (Wed., Aug. 8) and an aerial showing flames in the park and approaching Kapapala Ranch (Tues., Aug. 7).
COURTESY OF HVNP.
KILAUEA SUMMIT:
KILAUEA REMAINS QUIET. This quiet is a significant departure from the pattern of episodic seismicity and continuous deformation over the past several months, with very low rates of seismicity continuing today. Deformation at the summit as measured by tiltmeter and GPS instruments slowed and virtually stopped between August 4 and 5. This view of Halema'uma'u is toward the southeast.
High- elevation view of Halema'uma'u and the Kilauea Crater with Mauna Loa in the background. HVO and NPS Jaggar Museum are located on bluffs at the far side of the crater in the center of the view.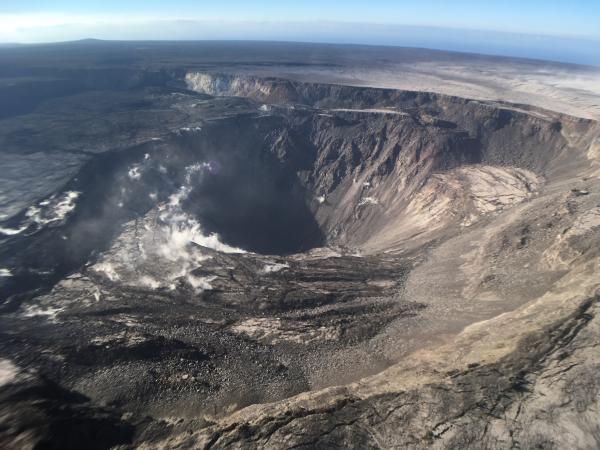 From mid May until early August 2018. The depth of Halema'uma'u Crater in Volcanoes National Park has more then tripled. It's diameter more than doubled as magma from Kīlauea's shallow summit reservoir moved into the lower East Rift Zone. Evidence of subsidence is visible in this video, taken during an early morning helicopter overflight on August 6, 2018. Cracks and down-dropped blocks of the caldera floor have slumped into Halema'uma'u. At the base of the steep crater walls are piles of talus (rock fragments) shaken loose during previous summit collapse events. Areas of persistent steaming within the crater, in the vicinity of the former lava lake, are also visible.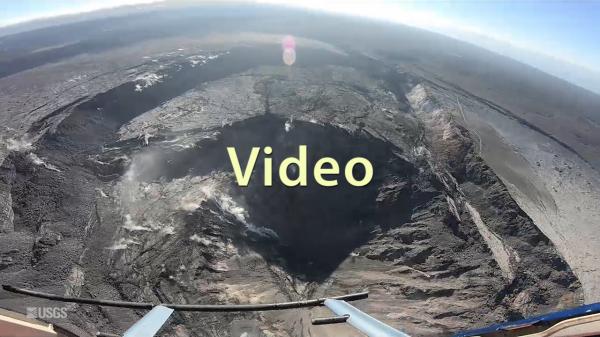 Below: Note the smoke plume from a still-burning brush fire on the lower flank of Mauna Loa. The brush fire that started yesterday was sparked by repairs to a bulldozer. As of this afternoon it has burnt over 700 acres. The high winds and dry conditions has made it difficult to control the fire. Federal and County Firefighters are trying to control the blaze. The fire has scorched native koa forest which is the important habitat to endangered and endemic species like the Hawaiian hawk and Hawaiian bat."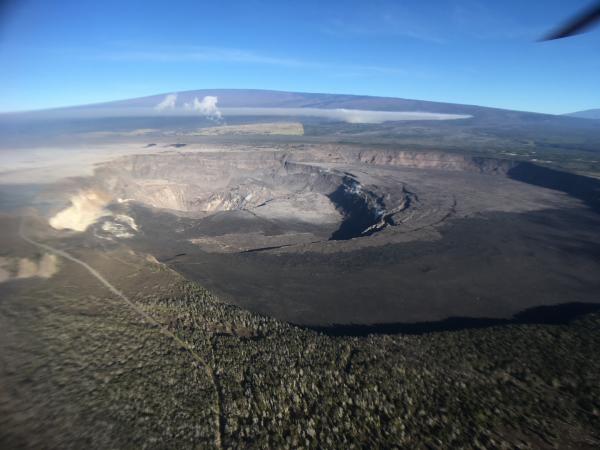 This photo shows a portion of the Crater Rim Drive that led from the east to the Halema'uma'u parking area, which slid into the growing crater weeks ago. Note a slump block located below and near where the road ends at Halema'uma'u. The September 1982 lava flow can be seen in the top of the photograph.
Courtesy of USGS.